The Apârtment #7 – November 2015
Paul Tecklenberg
Paul Tecklenberg has photographed all the equestrian bronze statues in central London and  flipped them into black and white negatives of Kings and Generals. By using this process Paul has revealed rich details that are normally blind to the naked eye of statues that are part of the backdrop of London.
Melissa Alley
Melissa Alley is exhibiting a series of auto-trance portraits created by "tuning in" to photographs of women from previous generations. The formal black and white photographs are exhibited next to rich and informative paintings. When Melissa is in a trance state, she responds intuitively, guided in her process to reveal rich and intuitive insights about the person.
Tisna Westerhof
Tisna Westerhof has created a series of paper plates, painting images of newspaper reports in the style of Delft Blue earthenware. She opens up a dialogue about inheritance and creativity in response to the media representations of violence. In her opinion the news is biased and it has its own political agenda.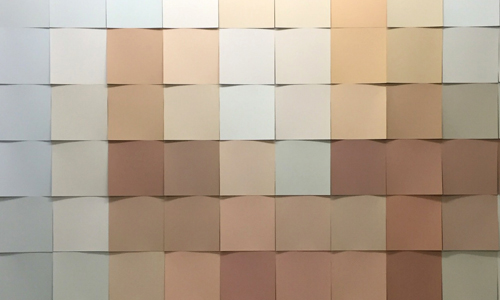 Alex MacGregor
Alex MacGregor "Celebrity Portrait No. 9" is one of a series of ten works which take the image of a face and reduce it to 100 pixels. These monochromatic blocks are printed individually and re-assembled but the face is no longer recognizable, in the same way that bystanders are anonymised in press photos. The new iconoclastic panels disguise the identity of the subject using the language of the medium, reflecting on perception and colour, portraiture and celebrity culture, and the creation of myths through digital media.
T. Witz, P. Fiorentini, L. Carter
Teresa Witz, Paolo Fiorentini and Lynn Carter have created "The Drawing Room". Through time we accumulate many sheets of paper, notebooks, photographs, sketches and drawings as references for our art practice and as a historical trace which we use to reflect on at times when we feel lost or displaced. All this material doesn't live in any one place and isn't kept in any particular order. Sometimes it lays neglected under layers of forgotten attempts. Folded, rolled and stacked, they are receipts of our journeys in search of the ultimate solution.
Teresa Witz
Paolo Fiorentini
Lynn Carter